Thriller movies have been about for many years, decades even.
My research shows me that Thriller movies have not always been as suspensful and of course, not as great quality as it is today and furthermore, the storylines of old thrillers aren't as imaginative as you would expect from a recent thriller movie.
TIME LINE
1923
SAFTEY LAST It is 70 minutes long, in black and white and it is a silent film... unlike the ones you would see today.
The genre of this film is : Comady-Romantic-Thriller and is rated a PG meaning it had a wide audience as it doesnt contain much horror elements.
It is about a Country boy heads to the big city to seek success. While working as a clerk in a department store, he talks the manager into offering $1000 to anyone who can bring more customers to the store. He then arranges for a friend, to climb the face of the store building as a publicity stunt. Unfortunatly he is a wanted man, and when The Law shows, our hero must make the climb, himself. At each ledge he encounters new difficulties, climaxing in the famous 'clock scene.
1951
STRANGERS ON A TRAIN is a 101 minute crime thriller directed by Alfred Hitchock. I think this is a more thought of storyline of which contains more suspense and thriller elements. The storyline is very interesting.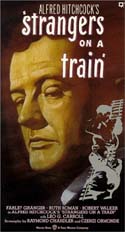 It is about two strangers each agree to kill someone the other person wants to get rid of. Guy dismisses it all out of hand but but Bruno goes ahead with it. When Guy balks, Bruno says he will plant evidence to implicate Guy in her murder if he doesn't killof his father.
It all leads the police to believe Guy is responsible for the murder, forcing him to deal with Bruno's mad ravings.
1978
SILENT PARTNER is a 106 minute crime thriller directed by Daryl Duke.
By this time, movies were no longer silent nor in black or white but storylines remained not so imaginative.
it is about a b
ank teller held up at gun point in his bank. Luckily for him hediverts most of the cash into his own safety deposit box, leaving only a small
amount for the crook. The crook resents the fact that he has been outsmarted.
1992
POISON IVY is a Erotic-Thriller film directed by Katt Shea and starring Drew Barrymore- it is only 88 minutes.
In this film, the editing and storyline is a bit more advance and imaginative. The use of famous actors/actress' is also beneficial as fans will want to watch the film more.
Ivy is a sexy school girl who lives with her aunt, moves in with a reclusive teen and slowly works her way into the lives of her adopted family. The mother is sickly and can't sexually satisfy her husband any more, and to the daughter's horror, Ivy begins seducing her father.
2011
SACTRUM is a forthcoming 3D thriller film directed by Allistar Grierson. It is High Definition and ThreeDimentional. These amazing effects are what the people of 1923 would have thought to be impossible, but with the help and growth of technology we are able to do this in order to make our films imaginative,suspensuful and many more.
underwater cave divers on a expedition to the most beautiful cave system are forced deep into the cavers by a tropical storm. There they must fight raging water, deadly terrain and creeping panic as they search for an escape route to the sea.